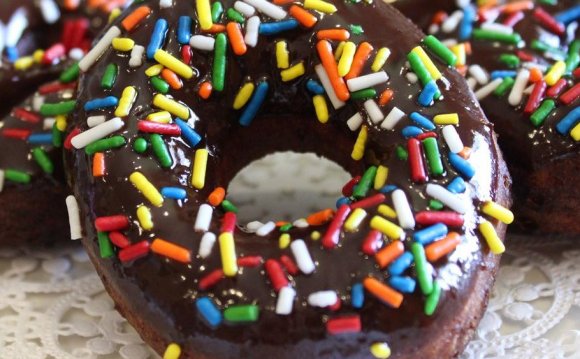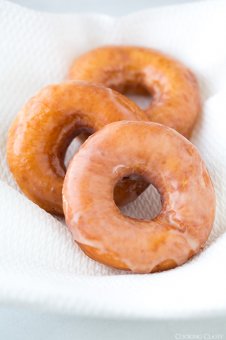 Glazed doughnuts are my weakness, especially when they're Krispy Kreme glazed doughnuts. Aren't they everyones weakness?
It took several attempts to get a homemade version that is like a Krispy Kreme. As the saying goes, third times the charm. I tried three different types of flour, bread flour first then blend of cake and all purpose flour and I ended up settling on just all purpose. It's hard to get the exact same texture as theirs because according to the ingredients they have listed online they use emulsifiers, gluten, thickener, firming agents and other additives, which I'm guessing is what gives their doughnuts such a delicate texture. For us home cooks, are we ever going to try and track down all that stuff? With that said these doughnuts are very close, just not identical. Also, my version isn't as pretty :). The dough is somewhat delicate to work with after the second rise so they didn't keep their shape perfectly well once I lifted them to transfer to the oil. If only I had one of those conveyer belts like they have at Krispy Kreme. My family and I did a side by side comparison with my version and theirs and both flavor and texture were so close.
If you like a thick coating of glaze, you can make more glaze and double dip them. This recipe could easily be doubled for feeding a crowd. When you eat one of these warm, that perfectly golden, glaze covered edge and fluffy interior just melt away in your mouth. Enjoy!
Copycat Krispy Kreme Glazed Doughnuts
Ingredients
Doughnuts
2 1/4 tsp active dry yeast
1/2 cup warm water, 110 degrees
1/4 cup granulated sugar, divided
1/4 cup evaporated milk, warmed to 110 degrees
1/2 tsp salt
1/4 cup vegetable shortening, at room temperature
1 large egg
1 egg yolk
1/2 tsp vanilla extract
2 1/2 cups all-purpose flour, then more as needed
3 - 4 cups vegetable shortening, for frying
Glaze
2 Tbsp unsalted butter, melted
1 1/3 cups powdered sugar
1 pinch salt
2 tsp evaporated milk
3 - 4 tsp hot water
Directions
In the bowl of an electric stand mixer, whisk together yeast, warm water and 1/2 tsp of the sugar. Let rest 5 - 10 minutes. Add in evaporated milk, remaining granulated sugar (3 Tbsp + 2 1/2 tsp), salt, 1/4 cup shortening, egg, egg yolk and vanilla. Add half of the flour and set mixer with whisk attachment and blend until smooth. Switch mixer to hook attachment, slowly add remaining flour and knead on low speed until smooth and elastic about 4 - 5 minutes, adding additional flour as needed (I only added about 2 Tbsp more. You shouldn't need a lot more, you want dough to be slightly sticky and tacky but shouldn't stick to a clean fingertip). Transfer dough to a lightly oiled bowl, cover with plastic wrap and let rise in a warm place until double in size, about 1 1/2 hours.
Punch dough down and roll into an even layer onto a floured surface to slightly less than 1/2-inch thickness. Cut into doughnut shapes using a doughnut cutter or two round circle cutters (on large and one small for holes). Cover and let rise until doubled, about 30 - 40 minutes.
Heat shortening in a cast iron dutch oven to 360 degrees (don't walk away from oil while preheating and don't let it get above 375 degrees, remove from heat and reduce heat as needed). Meanwhile, prepare glaze by mixing together all of the glaze ingredients in a shallow dish (don't add too much water, you'll be dipping warm doughnuts in glaze so you don't want it to be runny, fairly thick is good). Carefully transfer doughnuts to oil (I could fry 3 at a time) and fry until golden on bottom, then using a wooden chopstick, flip to opposite side and fry opposite side until golden brown. Transfer to a wire rack and allow to cool 1 - 2 minutes then dip top half in glaze while still warm and return to wire rack and allow glaze to set at room temperature. Best served warm. Once cool reheat in microwave 5 - 10 seconds if desired.
Recipe Source: Cooking Classy
Source: www.cookingclassy.com
RELATED VIDEO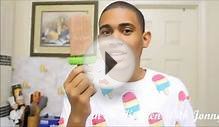 Homemade Donuts Recipe - in the Kitchen With Jonny Episode 104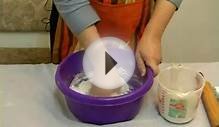 Mix Ingredients for Homemade Donuts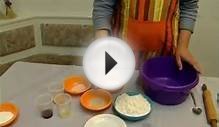 Homemade Donut Recipe Ingredients
Share this Post