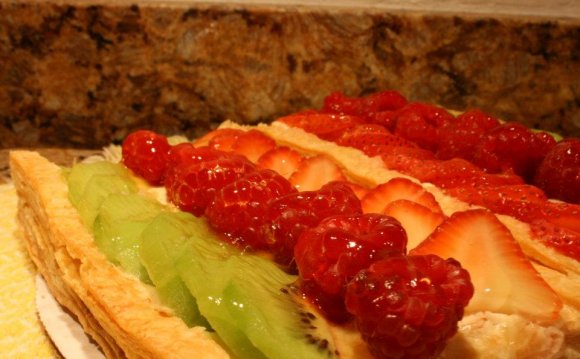 Sweet Pastry Crust: Inside a separate bowl, whisk the flour using the salt. Put the butter within the bowl of the electric mixer, or having a hands mixer, and beat until softened. Add sugar and beat until light and fluffy. Progressively add some beaten egg, beating just until incorporated. Add some flour mixture all at one time and blend just until it forms a ball. Flatten the pastry right into a disk, cover with plastic wrap, and refrigerate for 15-half an hour or simply until firm (are able to place in freezer for around 10-fifteen minutes.)
Gently butter and flour, or spray having a non-stick vegetable/flour cooking spray, an 8 - 9 inch (20 - 23 centimetres) tart pan having a detachable bottom. Evenly pat the chilled pastry to the bottom or more the edges from the pan. Cover with plastic wrap and put within the freezer for around fifteen minutes.
Meanwhile, pre-heat oven to 400 levels F (205 levels C) and put rack in center of oven. Gently prick bottom of pastry crust using the tines of the fork (this can avoid the dough from puffing as it bakes). Place tart pan on the bigger baking pan and bake crust for five minutes. Reduce oven temperature to 350 levels F (180 levels C) and then bake the crust for around fifteen minutes or until dry and gently golden brown. Remove from oven and put on the wire rack to awesome completely before filling. Could be covered and saved for any couple of days.
Pastry Cream: Inside a medium-sized heatproof bowl, mix the sugar and egg yolks together. (Don't allow the mix sit too lengthy or else you will get bits of egg developing.) the flour and corn starch (corn flour) together after which increase the egg mixture, mixing until you receive a smooth paste.
Meanwhile, inside a soup pot bring the milk and vanilla bean simply to boiling (just until milk begins to foam up.) Remove from warmth and add gradually to egg mixture, whisking constantly to avoid curdling. (When you get a couple of bits of egg (curdling) within the mixture, pour via a strainer.) Remove vanilla bean, scrape out seed products, and add some seed products towards the egg mixture. (The vanilla bean could be cleaned and dried and put into your sugar bowl to own sugar a vanilla flavouring.) Then pour the egg mixture right into a medium soup pot and prepare over medium warmth until boiling, whisking constantly. If this boils, whisk mixture constantly for an additional 30 - a minute until it might be thick. Remove from warmth and immediately whisk within the liqueur (if using). (Stir in vanilla flavoring is applying rather than a vanilla bean.) Pour right into a clean bowl and immediately cover the top with plastic wrap to avoid a crust from developing. Awesome to 70 degrees. Otherwise using immediately refrigerate until needed, as much as three days. Beat or whisk before using to eliminate any protuberances that could have created.
Apricot Glaze: Warmth the apricot jam or preserves and water in a tiny soup pot over medium warmth until liquid (melted). (May also warmth within the microwave.) Remove from warmth and strain the jam via a fine strainer to get rid of any fruit protuberances.
To Put Together Tart: To get rid of the tart in the fluted sides from the pan, put your hands underneath the pan, touching just the detachable bottom not the edges. Lightly push the tart upright, from the sides. The fluted tart ring will fall away and slide lower your arm. If you wish to remove the foot of the pan, operate a knife or thin metal spatula between your crust and metal bottom, then slide the tart on your platter.
Spread a skinny layer of apricot glaze within the bottom and sides from the baked tart spend to avoid the crust from getting saturated. Allow the glaze dry (about twenty minutes). Then spread the pastry cream onto the foot of the tart spend. Place fruit at random on the top of cream or perhaps in concentric overlapping circles, beginning in the outdoors edge. After organizing the fruit, rewarm the glaze, if using, and lightly brush an easy coat around the fruit. Otherwise serving immediately, refrigerate but provide 70 degrees before serving. This fruit tart is better eaten within 24 hours because it is put together. Cover and refrigerate any leftovers.
Serves about 6-8 people.
References:
Le Cordon Bleu, London.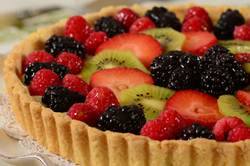 Source: www.joyofbaking.com
RELATED VIDEO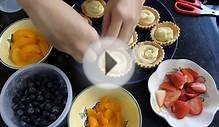 Fruit Tart - Recipe by ZaTaYaYummy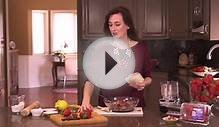 Fruit and Almond Tart Recipe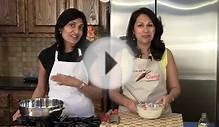 Fruit Tart Dessert Recipe
Share this Post