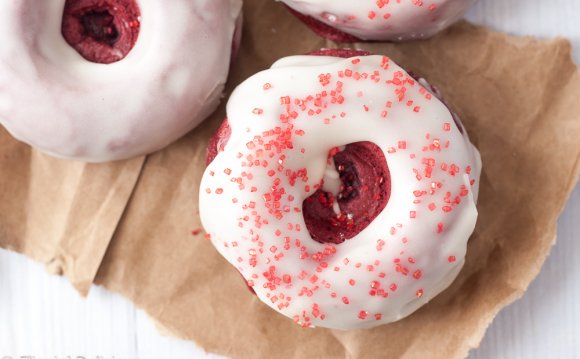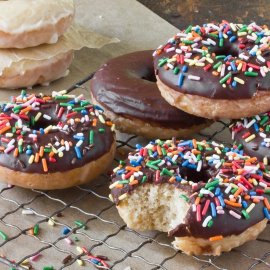 I purchased a doughnut pan a few years back for a recipe-testing project I was working on, but after two or three uses, it got squirreled away in my laundry room, along with plenty of other unitaskers left quietly to die. I decided recently to brush off the pan and give it another go, and I am so glad I did.
l will be the first to admit that these "faux-nuts" will never be as good as a warm batch of Krispy Kremes, but they are definitely delicious enough to satisfy a hankering when there's no glowing "Hot Now!" sign in sight.
For me, a good doughnut will always include a matte chocolate glaze and lots and lots of sprinkles. The pairing was a guilty pleasure as a child. Still is. Perhaps it's because my doting father always let me sneak a few before Sunday school, under the strict orders not to squeal to mom. (Don't worry, my mother and I shared a healthy obsession with chocolate malts, and the best place in town just happened to be located right next to my pediatric dentist. I swore I'd never tell.)
I try to steer clear of doughnuts on a day-to-day basis, but that doesn't mean I don't take a loooong pause every time I pass a Krispy Kreme display. Every now and then a girl's got to give in to her cravings, and with my doughnut pan gathering cobwebs on a shelf, it seemed like maybe it was time to give my old favorite a go.
Now let me just clear the air early. Obviously I know that "real" doughnuts are fried, but I was daring to be different here. It's all in the name of fun, right? (And y'all know this girl isn't afraid of a little hot oil.) For the sake of this particular recipe, I wanted all the ease of baking with the same deep-fried flavors we know and love.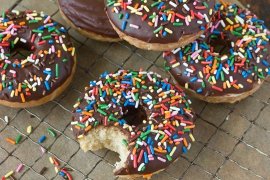 To get it right, I borrowed a technique from Southern-style angel biscuits, which are considered foolproof since they get leavening from both baking powder and yeast. It's a double-rising whammy. A sprinkle of nutmeg seals the deal. To gild the lily, I took one final tip from those sinful Krispy Kremes and used two glazes instead of just one. The doughnuts are first fully submerged in a buttery bath of vanilla-spiked glaze, and then just the tops are dunked in a final coat of delicious chocolate.
The grand finale? A healthy dose of sprinkles, of course.
Makes 12 doughnuts (recipe can easily be halved)
For the doughnuts:
2 teaspoons active dry yeast
2 tablespoons warm water
2 cups all-purpose flour
1 1/4 cups sugar
1 1/2 teaspoons baking powder
1/2 teaspoon freshly grated nutmeg
1/2 teaspoon salt
2 large eggs
1 cup vanilla yogurt, whole-milk or low-fat
4 tablespoons (1/2 stick) unsalted butter, melted
2 teaspoons vanilla bean paste or pure vanilla extract
For the vanilla glaze layer:
4 tablespoons (1/2 stick) unsalted butter
1 1/2 cups powdered sugar
2 teaspoons pure vanilla extract
3 tablespoons evaporated milk, plus more to thin if needed
For the chocolate glaze layer:
4 ounces semisweet chocolate, roughly chopped
2 tablespoons unsalted butter
1 cup powdered sugar
Source: www.thekitchn.com
RELATED VIDEO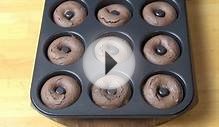 Oven Baked Chocolate Donuts - RECIPE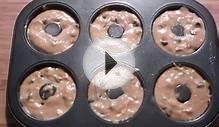 Baked Pumpkin Chocolate Chip Donuts Recipe by: Food Luv Bites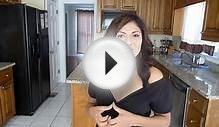 Baked Donuts Recipe (HOW TO)
Share this Post