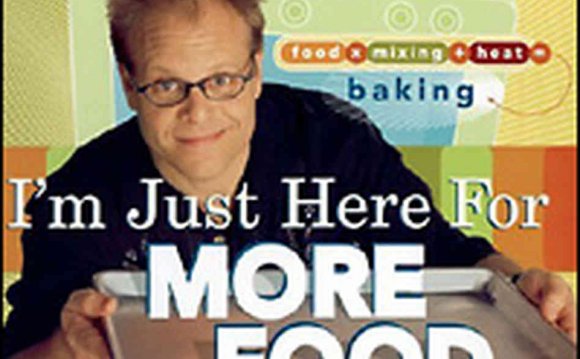 This is the best fruitcake you will ever have. This recipe has been slightly adapted from the Alton Brown free range fruitcake recipe. Erase any negative assumptions you have about fruitcake from your memory. This fruitcake is what fruitcake was meant to be. It is full of flavorful spices, juicy fruits, and delicious roasted nuts. I, like most of you, didn't have the fondest memories of fruitcake. As a kid, I didn't care for fruitcake, although I had never had a fruitcake anything like this. My mother would make fruitcakes with the candied seasonal fruit they sell in the grocery store. She would then let it swim in liquor until the fruitcake taste was overpowered by the strong alcohol. I was apprehensive when I first tried this recipe, fruitcake seems to have such a negative connotation. I decided it must be good though, since it was an Alton Brown recipe. The key to this wonderful fruitcake is to use dried fruits and roasted nuts instead of cheap candied fruits. Another huge improvement with this recipe is the step of reconstituting the fruit. Everything about this cake is super moist and full of flavor. For the best quality cake, buy new fresh spices. The original recipe is amazing as it is, but I made a few minor adjustments to suit our tastes. I added pineapple and mangoes for a little bit more of a tropical taste. I also replaced the unfiltered apple juice with apple cider, because that is what I usually have on hand. I also changed the gold rum to spiced rum, and changed the brandy to cherry brandy. You can adjust this recipe to your own tastes as well, or just adjust it to the liquors and fruits you have on hand. The only regret I had in my first attempt at this cake, was not doubling the recipe. This year I made sure to make 2 cakes. This fruitcake will definitely blow you away. Its the way fruitcake was meant to be, its absolutely perfect!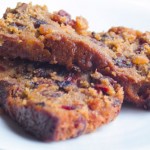 Ingredients:
1 cup golden raisins
1 cup currants
6 oz bag cup dried cranberries
4 oz bag dried blueberries
5 oz bag cup dried cherries
1/6 cup dried apricots, chopped
1/6 cup dried pineapple, chopped
1/6 cup dried mangoes, chopped
Zest of one lemon, chopped coarsely
Zest of one orange, chopped coarsely
1/4 cup candied ginger, chopped
1 cup spiced rum
1 cup sugar
5 ounces unsalted butter (1 1/4 sticks)
1 cup unfiltered apple cider
4 whole cloves, ground
6 allspice berries, ground
1 teaspoon ground cinnamon
1 teaspoon ground ginger
1 3/4 cups all purpose flour
1 1/2 teaspoons salt
1 teaspoon baking soda
1 teaspoon baking powder
2 eggs
3/4 cup toasted pecans, broken
Cherry Brandy for basting and/or spritzing
Directions:
Combine all the dried fruits, the zests, and the candied ginger in a large bowl. Add the rum and let them macerate overnight.
Add the fruit and rum the next day to a non reactive saucepan. Add sugar, butter, apple cider, and spices. Bring mixture to a boil while stirring constantly. Bowl for 10 minutes over medium heat. Let this mixture cool completely.
Preheat oven to 400 degrees. Chop the pecans and roast until fragrant, about 5 - 10 minutes. Turn heat down to 325 degrees.
Add fruit mixture into a large mixing bowl. Sift the dry ingredients into the fruit mixture. Stir until just combined. Stir in the eggs one at a time until incorporated. Fold in pecans.
Pour batter in to a 10 inch nonstick loaf pan, or a well greased loaf pan and bake for 1 hour at 325 degrees. Cake is done when it passes the toothpick test.
Let the cake cool completely in the pan before removing. Then place cake in an airtight container and baste with brandy.
Source: eclecticrecipes.com
RELATED VIDEO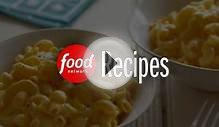 Simple Vanilla Buttercream Frosting : Alton Brown : Food ...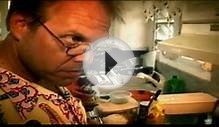 Johnny Cakes & Alton Brown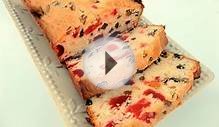 fruit cake brown fruit cakes
Share this Post